Bread. If you're not already arms-deep in flour, you're probably seeing your friends and family sharing images of perfectly golden-brown crusts emerging from their ovens.
You might be thinking: "Should I bake bread?" Or, "can I bake bread in my own kitchen?" The answer is yes. Yes, you should bake bread.
Baking bread is a great way to remind yourself how to plan ahead, set medium-term goals, learn a new skill, occupy yourself and sooth your worried mind for a bit. For me, it's an exercise in self-reliance: It's one less thing to buy at the grocery store and it makes my wife happy, which, when you're cooped up in a small living space, is essential for self-preservation.
It's also a great way to remind the world outside of your apartment that you are alive and that you are capable of doing things. To many, this will appear to be a profound undertaking. Once you upload your first image of a perfect loaf sitting on your kitchen counter to social media, prepare for responses like, "WOW!" and "Did you make that yourself?!" or "Nice work! I wish I were capable of such wonderful things!" And you don't need to tell them how easy it is, unless you want to.
One of the best parts about making bread is how little it requires.
There are no special tools needed. A bread machine? That's called your oven and a 6-quart cast-iron pot (Pyrex or ceramic work too). A bread hook? Nope. A wooden spoon or similar instrument is all that's required.
The only ingredients you need are flour, salt, yeast and water. If you're feeling especially artisanal, you can add some flavoring of herbs or spices as well. Once you have a bowl to mix it all, you are ready to go.
The recipe I use is one that appeals to me not only because of its delicious end-product but in its title. It's the famous Jim Lahey No-Work Bread, one of the New York Times' most popular recipes–so says their website. It's also called the No-Knead bread, but I first saw it titled No-Work and I will stand by that proud declaration.
Another ingredient you'll need is time. Hanging around our homes all day means we got plenty of it, but for this recipe to shine you'll need ~20 hours total of letting the dough rise. Just start it by 2 p.m. and you can have it ready for lunch the next day. I usually mix the dough by 6 or 7 p.m. for a dinner loaf. The best part is all you need to do is leave the dough alone during this time. More no-work.
Here's the recipe below along with photos to help guide your own path to crusty nirvana:
Get your dry ingredients together and measure out the following:
– 3 cups all-purpose or bread flour (plus some later to work with)
– ¼ teaspoon instant yeast
– 1 ¼ teaspoons salt
Step 1: Mix all the dry ingredients into a large bowl. Measure a little under 2 cups of lukewarm water.
Pour and mix it into the bowl until it starts to resemble a wet, shaggy dough. It should be very wet and sticky.
Step 2: Cover the bowl with plastic wrap and let it sit at warm-ish room temperature for 18 hours. If you can't wait that long, it won't ruin the bread, but it won't be as tasty. Once I finally mustered the self-discipline to let the dough rise for the full 18 hours, I was amazed by how much more flavor my loaf had. 
If you're not quite at that level of inner peace, 10-12 hours should suffice, but the full 18 hours makes a big difference. When the dough is done, it should look like this: inflated and with tiny bubbles and dots all over the surface. 
Step 3: Dump the contents out onto a floured surface and fold it over a few times.
Pro Tip: Use as little flour as you can – the moisture in the dough is important in the baking process. Let it sit for 15 minutes covered with the plastic wrap.
Step 4: After 15 minutes, gently fold or roll the dough into a loose ball and cover with the plastic wrap again, letting it rest for 2 hours. Using parchment paper or a slip-mat underneath makes the transfer to the pot much easier.
Step 5: About 45 minutes before the rise is done, preheat the oven to 450 degrees and place your pot with its cover inside. You want the pot to get hot!
At the end of the 2 hours, the dough should have doubled its size. When you poke it, it should hold its shape and not spring back immediately.
Step 6: Take your pot out of the oven and slide the dough in. It might not be beautiful, but it doesn't matter. The oven will take care of that.  Let it bake for 30 minutes with the lid on and for another 15-20 min with the lid off until the top has browned.
Make sure your phone is charged so you can upload your perfect loaf to social media. The most important part.  Remove the loaf from the pot using tongs and let cool for at least 20 minutes. This is one of the hardest stages of baking bread.
All you want to do is cut a nice slice and let the butter melt into the nooks and crannies but you mustn't – the bread is still baking. If you listen closely, you can hear the crackling sounds of the baking process still trudging along.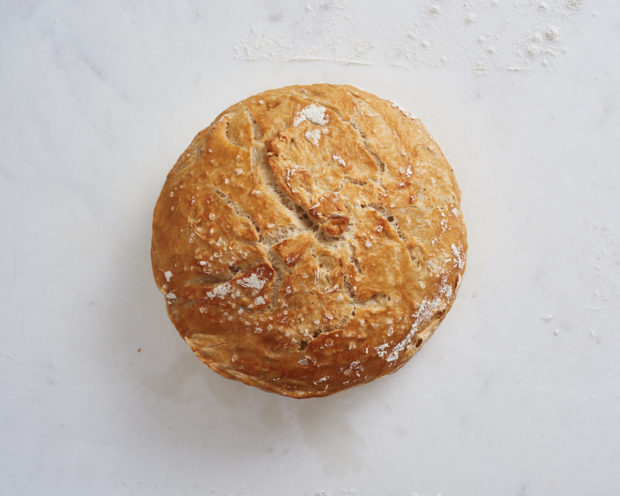 Grab your bread knife and cut a slice. 
Congratulations! You are now an artisan baker. Take a picture on your smartphone and immediately upload to Instagram.
This is what inner peace looks like.