As the coronavirus was still ebbing its way into the city on Saturday, a group of volunteers at Maple Street Community Garden in Brooklyn were building new plant beds and tilling the soil.
A sparse willow tree provided some shade, but most of the gardeners chose to work under the sun. Piles of cedarwood laid near the garden shed next to a few wheelbarrows filled with dirt. Instructions, planning and friendly conversation took precedence over talk of the novel virus rattling the city. 
"The social distancing thing hit last weekend, and it was like, what do we do now?" said Lory Henning, who manages maintenance at the garden. Since then, volunteers have opted for elbow taps instead of hugs as more information comes out about keeping a safe distance from others to mitigate the spread of the virus. 
"I woke up this morning and realized I could actually get really freaked out if I let myself," said Henning. "But I think we need this. It's nice to get together and be outside and use our muscles. I think it's a human necessity." 
Near the willow tree, two volunteers treated the cedar wood with a protective coating before it could be used to build a garden bed. 
"I came out here Wednesday night for a few hours after being surrounded by the stress of the news of the virus at work, and I left feeling more zen," said Yuliya Bolenok, a volunteer who lives in the neighborhood, as she brushed a piece of wood with the clear coating.  
"Unless the sky is falling, the garden needs to go on," said another volunteer.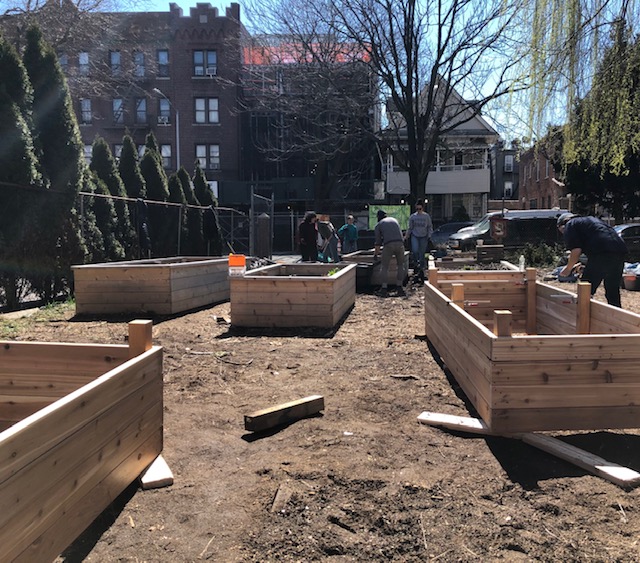 Despite growing concern over the coronavirus, gardeners know that soil needs to be turned, garden beds need to be built and repaired, and seeds need to be planted and watered.  
Tiffany Owens and Matt Shilts, both volunteers, used cordless drills to screw pieces of cedarwood together. "I want to be outside and enjoy this nice weather as much as possible. It's about being in the sun and working with my hands," said Owens, steadying a nail with the drill. 
Gardening engages different sections of the brain and feels calming, said Owens, who works in marketing and is used to the routine of working remotely. "You have to make these small positive investments in yourself during this time." 
"It's work that's very manual and basic. There's no emotional baggage. It's learning to build something," said Shilts, a podcast producer. Shilts was working from home the past three days and felt the need to get outside. "I'm already stir crazy," he said.
Top image: Tiffany Owens and Matt Shilts, both community members and volunteers, work on constructing new garden beds. // Maddie Kornfeld